Skype – Internet voice calls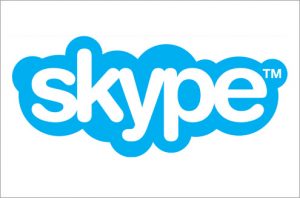 Date: 01/01/2003
Skype is an application that provides video chat and voice call services. Users may exchange such digital documents as images, text, video and any others, and may transmit both text and video messages. Skype allows the creation of video conference calls. Skype is available for Microsoft Windows, Macintosh, or Linux, as well as Android, Blackberry, Apple and Windows smartphones and tablets.
Skype was founded in 2003 by Niklas Zennström, from Sweden, and Janus Friis, from Denmark. The Skype software was created by Estonians Ahti Heinla, Priit Kasesalu, and Jaan Tallinn. The first public beta version was released on 29 August 2003.
Skype is based on a freemium model. Much of the service is free, but Skype Credit or a subscription is required to call a landline or a mobile phone number. At the end of 2010, there were over 660 million worldwide users, with over 300 million estimated active each month as of August 2015. At one point in February 2012, there were thirty four million users concurrently online on Skype.
First released in August 2003, Skype was created by the Swede Niklas Zennström and the Dane Janus Friis, in cooperation with Ahti Heinla, Priit Kasesalu, and Jaan Tallinn, Estonians who developed the backend that was also used in the music-sharing application Kazaa. In September 2005, eBay acquired Skype for $2.6 billion.
In September 2009, Silver Lake, Andreessen Horowitz and the Canada Pension Plan Investment Board announced the acquisition of 65% of Skype for $1.9 billion from eBay, which attributed to the enterprise a market value of $2.92 billion. Microsoft bought Skype in May 2011 for $8.5 billion. Skype division headquarters are in Luxembourg but most of the development team and 44% of all the division's employees are still situated in Tallinn and Tartu, Estonia.
Skype allows users to communicate over the Internet by voice using a microphone, by video using a webcam, and by instant messaging. Skype-to-Skype calls to other users are free of charge, while calls to landline telephones and mobile phones (over traditional telephone networks) are charged via a debit-based user account system called Skype Credit. Some network administrators have banned Skype on corporate, government, home, and education networks, citing such reasons as inappropriate usage of resources, excessive bandwidth usage and security concerns.
Skype originally featured a hybrid peer-to-peer and client–server system. Skype has been powered entirely by Microsoft-operated supernodes since May 2012. The 2013 mass surveillance disclosures revealed that Microsoft had granted intelligence agencies unfettered access to supernodes and Skype communication content.
The name for the software is derived from "Sky peer-to-peer", which was then abbreviated to "Skyper". However, some of the domain names associated with "Skyper" were already taken. Dropping the final "r" left the current title "Skype", for which domain names were available.
In June 2005, Skype entered into an agreement with the Polish web portal Onet.pl for an integrated offering on the Polish market. On 12 September 2005, eBay Inc. agreed to acquire Luxembourg-based Skype Technologies SA for approximately US$2.5 billion in up-front cash and eBay stock, plus potential performance-based consideration.
On 1 September 2009, it was announced that eBay was selling 65% of Skype to Silver Lake, Andreessen Horowitz, and the Canada Pension Plan Investment Board for US$1.9 billion, valuing Skype at US$2.75 billion.
Microsoft acquisition
On 10 May 2011, Microsoft Corporation acquired Skype Communications, S.à r.l for US$8.5 billion. The company was incorporated as a division of Microsoft, which acquired all Its technologies with the purchase. This was completed on 13 October 2011.
Shortly after its acquisition, Microsoft began integrating the Skype service with its own products:
Along with taking over development of existing Skype desktop and mobile apps, the company developed a dedicated client app, called Skype for Modern Windows, for its newly released, touch-focused Windows 8 and Windows RT operating systems. This app became downloadable from the Windows Store when the new OS launched on 26 October 2012. The following year, Skype for Modern Windows became the default messaging app for Windows 8.1, replacing the Windows 8 Messaging app at the time, and became pre-installed software on every device that came with or upgraded to 8.1.
When the company introduced Office 2013 on 27 February 2013, it was announced that 60 Skype world minutes per month would be included in Office 365 consumer plans (Home and Personal, and University). In a month-long transition period from 8 to 30 April 2013, it phased out its long-standing Windows Live Messenger instant messaging service in favour of Skype, although Messenger continued in mainland China.
On 11 November 2014, Microsoft announced that in 2015 Lync would be replaced by Skype for Business. The latest version of the communication software combines features of Lync and the consumer Skype software. There are two user interfaces – organizations can switch their users from the default Skype for Business interface to the Skype for Business (Lync) interface.
Features
Registered users of Skype are identified by a unique Skype Name and may be listed in the Skype directory. Skype allows these registered users to communicate through both instant messaging and voice chat. Voice chat allows telephone calls between pairs of users and conference calling and uses a proprietary audio codec. Skype's text chat client allows group chats, emoticons, storing chat history, and editing of previous messages. Offline messages were implemented in a beta of version 5 but removed after a few weeks without notification. The usual features familiar to instant messaging users—user profiles, online status indicators, and so on—are also included.
The Online Number, a.k.a. SkypeIn, service allows Skype users to receive calls on their computers dialed by conventional phone subscribers to a local Skype phone number; local numbers are available for Australia, Belgium, Brazil, Chile, Colombia, Denmark, the Dominican Republic, Estonia, Finland, France, Germany, Hong Kong, Hungary, India, Ireland, Japan, Mexico, Nepal, New Zealand, Poland, Romania, South Africa, South Korea, Sweden, Switzerland, Turkey, the Netherlands, the United Kingdom, and the United States. A Skype user can have local numbers in any of these countries, with calls to the number charged at the same rate as calls to fixed lines in the country. The countries on this growing list are referred to collectively as the SkypeIn Countries.
Skype supports conference calls, video chats, and screen sharing between 25 people at a time for free.
Skype does not provide the ability to call emergency numbers, such as 112 in Europe, 911 in North America, or 100 in India and Nepal. However, as of December 2012, there is limited support for emergency calls in the United Kingdom, Australia, Denmark, and Finland. The U.S. Federal Communications Commission (FCC) has ruled that, for the purposes of section 255 of the Telecommunications Act, Skype is not an "interconnected VoIP provider". As a result, the U.S. National Emergency Number Association recommends that all VoIP users have an analog line available as a backup.
On 14 July 2011, Skype partnered with Comcast to bring its video chat service to Comcast subscribers via their HDTV sets.
On 17 June 2013, Skype released a free video messaging service, which can be operated on Windows, Mac OS, iOS, Android and BlackBerry.
On 12 August 2013, Skype released the 4.10 update to the app for Apple iPhone and iPad that allows HD quality video for iPhone 5 and fourth-generation iPads.
On 20 November 2014, Microsoft Office's team announced that a new chat powered by Skype is going to be implemented in their software, giving tools to be able to chat with co-workers in the same document.
On 15 September 2015, Skype announced the release of Mojis, "a brand new way to express yourself on Skype." Mojis are short clips/gifs featuring characters from films and TV shows to be entered into conversations with the same ease as emoticons. They are working with Universal Studios, Disney Muppets, BBC and other studios to add to the available collection of Mojis.
On 21 December 2015, Gurdeep Singh Pall, Corporate Vice President of Skype, announced that Microsoft acquired the technology from Talko, "maker of an innovative mobile app for on-the-go business communications (…) Together, the new technology and talent will help us deliver great new features and capabilities in both Skype and Skype for Business."
In January 2016, Skype announced it would roll out free group video calling to users on mobile devices, including iOS and Android. In February 2016, Microsoft announced that it had started to introduce group calling on smartphones and tablets in North America and Western Europe.
In July 2016, Skype introduced an early Alpha version of a new Skype for Linux client, built with WebRTC technology, after several petitions had asked Microsoft to continue development for Linux.
On 30 September 2016, Skype updated their iOS app with new features, including an option to call contacts on Skype through Siri voice commands.
On 27 October 2016 Microsoft launched Skype for Business for Mac.