Philips – philips.com was registered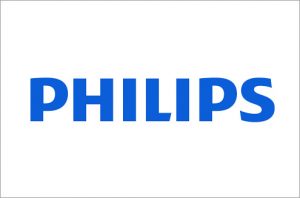 Date: 04/04/1987
On April 4, 1987, Philips registered the philips.com domain name, making it 67th .com domain ever to be registered.
Koninklijke Philips N.V. (Royal Philips, commonly known as Philips) is a Dutch technology company headquartered in Amsterdam with primary divisions focused in the areas of electronics, healthcare and lighting. It was founded in Eindhoven in 1891 by Gerard Philips and his father Frederik. It is one of the largest electronics companies in the world and employs around 105,000 people across more than 60 countries. Philips is organized into three main divisions: Philips Consumer Lifestyle (formerly Philips Consumer Electronics and Philips Domestic Appliances and Personal Care), Philips Healthcare (formerly Philips Medical Systems) and Philips Lighting.  As of 2012 Philips was the largest manufacturer of lighting in the world measured by applicable revenues. In 2013, the company announced the sale of the bulk of its remaining consumer electronics operations to Japan's Funai Electric Co, but in October 2013, the deal to Funai Electric Co was broken off and the consumer electronics operations remain under Philips. Philips said it would seek damages for breach of contract in the $200-million sale. In April 2016, the International Court of Arbitration ruled in favour of Philips, awarding compensation of 135 million Euro in the process. Philips has a primary listing on the Euronext Amsterdam stock exchange and is a component of the Euro Stoxx 50 stock market index. It has a secondary listing on the New York Stock Exchange.
History
The Philips Company was founded in 1891 by Gerard Philips and his father Frederik. Frederik, a banker based in Zaltbommel, financed the purchase and setup of a modest, empty factory building in Eindhoven, where the company started the production of carbon-filament lamps and other electro-technical products in 1892. This first factory has been adapted and is used as a museum. In 1895, after a difficult first few years and near bankruptcy, the Philipses brought in Anton, Gerard's younger brother by sixteen years. Though he had earned a degree in engineering, Anton started work as a sales representative; soon, however, he began to contribute many important business ideas. With Anton's arrival, the family business began to expand rapidly, resulting in the founding of Philips Metaalgloeilampfabriek N.V. (Philips Metal Filament Lamp Factory Ltd.) in Eindhoven in 1908, followed in 1912 by the foundation of Philips Gloeilampenfabrieken N.V. (Philips Lightbulb Factories Ltd.). After Gerard and Anton Philips changed their family business by founding the Philips corporation, they laid the foundations for the later electronics multinational.
In the 1920s, the company started to manufacture other products, such as vacuum tubes. In 1939 they introduced their electric razor, the Philishave (marketed in the US using the Norelco brand name). The "Chapel" is a radio with built-in loudspeaker, which was designed during the early 1930s.
Philips Radio
On 11 March 1927 Philips went on the air with shortwave radio station PCJJ (later PCJ) which was joined in 1929 by sister station PHOHI (Philips Omroep Holland-Indië). PHOHI broadcast in Dutch to the Dutch East Indies (now Indonesia) while PCJJ broadcast in English, Spanish and German to the rest of the world. The international program on Sundays commenced in 1928, with host Eddie Startz hosting the Happy Station show, which became the world's longest-running shortwave program. Broadcasts from the Netherlands were interrupted by the German invasion in May 1940. The Germans commandeered the transmitters in Huizen to use for pro-Nazi broadcasts, some originating from Germany, others concerts from Dutch broadcasters under German control. Philips Radio was absorbed shortly after liberation when its two shortwave stations were nationalised in 1947 and renamed Radio Netherlands Worldwide, the Dutch International Service. Some PCJ programs, such as Happy Station, continued on the new station.
Stirling engine
Philips was instrumental in the revival of the Stirling engine when, in the early 1930s, the management decided that offering a low-power portable generator would assist in expanding sales of its radios into parts of the world where mains electricity was unavailable and the supply of batteries uncertain. Engineers at the company's research lab carried out a systematic comparison of various power sources and determined that the almost forgotten Stirling engine would be most suitable, citing its quiet operation (both audibly and in terms of radio interference) and ability to run on a variety of heat sources (common lamp oil – "cheap and available everywhere" – was favoured). They were also aware that, unlike steam and internal combustion engines, virtually no serious development work had been carried out on the Stirling engine for many years and asserted that modern materials and know-how should enable great improvements.
Encouraged by their first experimental engine, which produced 16 W of shaft power from a bore and stroke of 30 mm × 25 mm,[10] various development models were produced in a programme which continued throughout World War II. By the late 1940s the 'Type 10′ was ready to be handed over to Philips' subsidiary Johan de Witt in Dordrecht to be productionised and incorporated into a generator set as originally planned. The result, rated at 180/200 W electrical output from a bore and stroke of 55 mm x 27 mm, was designated MP1002CA (known as the "Bungalow set"). Production of an initial batch of 250 began in 1951, but it became clear that they could not be made at a competitive price, besides which the advent of transistor radios with their much lower power requirements meant that the original rationale for the set was disappearing. Approximately 150 of these sets were eventually produced. In parallel with the generator set Philips developed experimental Stirling engines for a wide variety of applications and continued to work in the field until the late 1970s, though the only commercial success was the 'reversed Stirling engine' cryocooler. However, they filed a large number of patents and amassed a wealth of information, which they later licensed to other companies.
Shavers
The first Philips shaver was introduced in the 1930s, and was simply called "The Philishave". In the USA, it was called the "Norelco", which remains a part of their product line today.
1945 to 2001
After the war the company was moved back to the Netherlands, with their headquarters in Eindhoven. In 1949, the company began selling television sets. In 1950, it formed Philips Records. Philips introduced the audio Compact Audio Cassette tape in 1963, and it was wildly successful. Compact cassettes were initially used for dictation machines for office typing stenographers and professional journalists. As their sound quality improved, cassettes would also be used to record sound and became the second mass media alongside vinyl records used to sell recorded music. Philips introduced the first combination portable radio and cassette recorder, which was marketed as the "radiorecorder", and is now better known as the boom box. Later, the cassette was used in telephone answering machines, including a special form of cassette where the tape was wound on an endless loop. The C-cassette was used as the first mass storage device for early personal computers in the 1970s and 1980s. Philips reduced the cassette size for the professional needs with the Mini-Cassette, although it would not be as successful as the Olympus Microcassette. This became the predominant dictation medium up to the advent of fully digital dictation machines.
In 1972 Philips launched the world's first home video cassette recorder, in the UK, the N1500. Its relatively bulky video cassettes could record 30 minutes or 45 minutes. Later one-hour tapes were also offered. As competition came from Sony's Betamax and the VHS group of manufacturers, Philips introduced the N1700 system which allowed double-length recording. For the first time, a 2-hour movie could fit onto one video cassette. In 1977, the company unveiled a special promotional film for this system in the UK, featuring comedian Denis Norden. The concept was quickly copied by the Japanese makers, whose tapes were significantly cheaper. Philips made one last attempt at a new standard for video recorders with the Video 2000 system, with tapes that could be used on both sides and had 8 hours of total recording time. As Philips only sold its systems on the PAL standard and in Europe, and the Japanese makers sold globally, the scale advantages of the Japanese proved insurmountable and Philips withdrew the V2000 system and joined the VHS Coalition.
Philips had developed a LaserDisc early on for selling movies, but delayed its commercial launch for fear of cannibalizing its video recorder sales. Later Philips joined with MCA to launch the first commercial LaserDisc standard and players. In 1982, Philips teamed with Sony to launch the Compact Disc; this format evolved into the CD-R, CD-RW, DVD and later Blu-ray, which Philips launched with Sony in 1997 and 2006 respectively.
In 1984, Philips split off its activities on the field of photolithographic integrated circuit production equipment, the so-called wafer steppers, into a joint venture with ASM International, located in Veldhoven under the name ASML. Over the years, this new company has evolved into the world's leading manufacturer of chip production machines at the expense of competitors like Nikon and Canon.
In 1991, the company's name was changed from N.V. Philips Gloeilampenfabrieken to Philips Electronics N.V. At the same time, North American Philips was formally dissolved, and a new corporate division was formed in the U.S. with the name Philips Electronics North America Corp.
In 1997 the company officers decided to move the headquarters from Eindhoven to Amsterdam along with the corporate name change to Koninklijke Philips Electronics N.V.[citation needed] The move was completed in 2001. Initially, the company was housed in the Rembrandt Tower, but in 2002 they moved again, this time to the Breitner Tower. Philips Lighting, Philips Research, Philips Semiconductors (spun off as NXP in September 2006) and Philips Design, are still based in Eindhoven. Philips Healthcare is headquartered in both Best, Netherlands (near Eindhoven) and Andover, Massachusetts, United States (near Boston).
In 2000, Philips bought Optiva Corporation, the maker of Sonicare electric toothbrushes. The company was renamed Philips Oral Healthcare and made a subsidiary of Philips DAP.
In 2001, Philips acquired the Healthcare Solutions Group (HSG) based in Böblingen, Germany from Agilent Technologies for EUR 2 billion.
2001 to 2011
In 2004, Philips abandoned the slogan "Let's make things better" in favour of a new one: "Sense and simplicity".
In December 2005 Philips announced its intention to sell or demerge its semiconductor division. On 1 September 2006, it was announced in Berlin that the name of the new company formed by the division would be NXP Semiconductors. On 2 August 2006, Philips completed an agreement to sell a controlling 80.1% stake in NXP Semiconductors to a consortium of private equity investors consisting of Kohlberg Kravis Roberts & Co. (KKR), Silver Lake Partners and AlpInvest Partners. On 21 August 2006, Bain Capital and Apax Partners announced that they had signed definitive commitments to join the acquiring consortium, a process which was completed on 1 October 2006. In 2006 Philips bought out the company Lifeline Systems headquartered in Framingham, Massachusetts. In August 2007 Philips acquired the company Ximis, Inc. headquartered in El Paso, Texas for their Medical Informatics Division. In October 2007, it purchased a Moore Microprocessor Patent (MPP) Portfolio license from The TPL Group.
On 21 December 2007 Philips and Respironics, Inc. announced a definitive agreement pursuant to which Philips acquired all of the outstanding shares of Respironics for US$66 per share, or a total purchase price of approximately €3.6 billion (US$5.1 billion) in cash.
On 21 February 2008 Philips completed the acquisition of VISICU Baltimore, Maryland through the merger of its indirect wholly owned subsidiary into VISICU. As a result of that merger, VISICU has become an indirect wholly owned subsidiary of Philips. VISICU was the creator of the eICU concept of the use of Telemedicine from a centralized facility to monitor and care for ICU patients. The Philips physics laboratory was scaled down in the early 21st century, as the company ceased trying to be innovative in consumer electronics through fundamental research.
2011 to present
In January 2011 Philips agreed to acquire the assets of Preethi, a leading India-based kitchen appliances company.
On 27 June 2011 Philips acquired Sectra Mamea AB, the mammography division of Sectra AB, together with the MicroDose brand.
Because net profit slumped 85 percent in Q3 2011, Philips announced a cut of 4,500 jobs to match part of an €800 million ($1.1 billion) cost-cutting scheme to boost profits and meet its financial target.
In March 2012 Philips announced its intention to sell, or demerge its television manufacturing operations to TPV Technology.
In 2011, the company posted a loss of €1.3 billion, but earned a net profit in Q1 and Q2 2012, however the management wanted €1.1 billion cost-cutting which was an increase from €800 million and may cut another 2,200 jobs until end of 2014.
On 5 December 2012, the antitrust regulators of the European Union fined Philips and several other major companies for fixing prices of TV cathode-ray tubes in two cartels lasting nearly a decade.
On 29 January 2013, it was announced that Philips had agreed to sell its audio and video operations to the Japan-based Funai Electric for €150 million, with the audio business planned to transfer to Funai in the latter half of 2013, and the video business in 2017.[33][34] As part of the transaction, Funai was to pay a regular licensing fee to Philips for the use of the Philips brand. The purchase agreement was terminated by Philips in October because of breach of contract.
In April 2013, Philips announced a collaboration with Paradox Engineering for the realization and implementation of a "pilot project" on network-connected street-lighting management solutions. This project was endorsed by the San Francisco Public Utilities Commission (SFPUC).
In 2013, Philips omitted the word "Electronics" from its name, which is now Royal Philips N.V.
On 13 November 2013 Philips unveiled its new brand line "Innovation and You" and a new design of its shield mark. The new brand positioning is cited by Philips to signify company's evolution and emphasize that innovation is only meaningful if it is based on an understanding of people's needs and desires.
On 28 April 2014 Philips agreed to sell their Woox Innovations subsidiary (consumer electronics) to Gibson Brands for $US135 million.
On 23 September 2014, Philips announced a plan to split the company into two, separating the lighting business from the healthcare and consumer lifestyle divisions. it moved to complete this in March 2015 to an investment group for $3.3 billion
On February 2015, Philips acquired Volcano Corporation to strengthen its position in non-invasive surgery and imaging.
On June 2016, Philips spun off its lighting division to focus on the healthcare division.