Network Solutions sold to Web.com for $405M and stock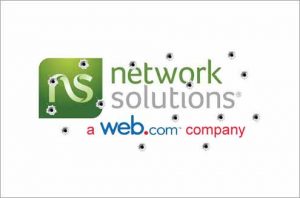 Aug 3, 2011
Network Solutions has been scooped up by Web.com Group Inc., which will pay $405 million in cash and issue 18 million shares of common stock to buy the Herndon-based web domain registrar.
Web.com stock (NASDAQ: WWWW) closed at $8.66 a share Wednesday before the deal was announced, putting the total value of the deal at $560 million.
The buyout – which awaits shareholder and regulatory approval — comes a year after the Jacksonville, Fla.-based Web.com bought a Network Solutions competitor, Register.com, for $135 million.
After the acquisition, the combined Web.com and Network Solutions operation is expected to see revenue "in the mid-$450 million range" this year, with 1,900 employees, 3 million paying subscribers and 9 million domain names under management, according to a news release.
It's the latest turn in Network Solutions' tumultuous 16-year history of ownership changes. It was first bought by SAIC in 1995 and went public two years later under the ticker symbol NSOL, raising $67 million. VeriSign in 2000 bought the company in a stock deal worth $21 billion, then the largest Internet buyout in history. Three years and a tech crash later, VeriSign ended the ill-fated marriage and sold Network Solutions to the Najafi Companies, a private equity firm, for $100 million. Najafi had better luck – selling the domain registrar to General Atlantic LLC in 2007 at a reported price tag of $800 million.
The acquisition is slated to be completed in the fall. At the close, General Atlantic and other current Network Solutions shareholders are expected to own about 37 percent of Web.com. Anton Levy, a managing director at General Atlantic, will join the Web.com board.