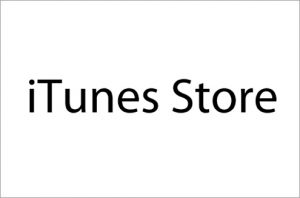 Date: 01/01/2003
The iTunes Store is a software-based online digital media store operated by Apple Inc. It opened on April 28, 2003, and has been the largest music vendor in the United States since April 2008, and the largest music vendor in the world since February 2010. It offers over 43 million songs, 700,000 apps, 190,000 TV episodes and 45,000 films as of September 12, 2012. The iTunes Store's revenues in the first quarter of 2011 totalled nearly US$1.4 billion; by May 28, 2014, the store had sold 35 billion songs worldwide.
While most downloaded files initially included usage restrictions enforced by FairPlay, Apple's implementation of digital rights management (DRM), iTunes later initiated a shift into selling DRM-free music in most countries, marketed as iTunes Plus. On January 6, 2009, Apple announced that DRM had been removed from 80% of its music catalog in the US. Full iTunes Plus availability was achieved in the US on April 7, 2009, coinciding with the introduction of a three-tiered pricing model; however, television episodes, many books, and films are still FairPlay-protected. As of June 2013, the iTunes Store possesses 575 million active user accounts, and serves over 315 million mobile devices, including Apple Watches, iPods, iPhones, Apple TV and iPads.
Before the iTunes Store, most of the online music was download through websites like Napster. Steve Jobs expressed concern that people were illegally obtaining music because it was the only option they had. In 2002, Steve Jobs made an agreement with the five major record labels to offer their content through iTunes. The iTunes Store was introduced by Steve Jobs at a Worldwide Developer's Conference to give music listeners a legal alternative to peer-to-peer file sharing networks. When it opened, it was the only legal digital catalog of music to offer songs from all five major record labels. At first, it was only available on Mac OS X and the iPod.
Following the introduction of the iTunes Store, individual songs were all sold for the same price, though Apple introduced multiple prices in 2007. Music in the store is in the Advanced Audio Coding (AAC) format, which is the MPEG-4-specified successor to MP3. Originally, songs were only available with DRM and were encoded at 128 kbit/s. At the January 2009 Macworld Expo, Apple announced that all iTunes music would be made available without DRM, and encoded at the higher-quality rate of 256 kbit/s. Previously, this model, known as "iTunes Plus", had been available only for music from EMI and some independent labels. Users can sample songs by listening to previews, ninety seconds in length, or thirty seconds for short tracks.
In addition, the iTunes Store offers apps, which are applications used for various purposes (games, productivity, news, etc.) that are compatible with the iPod Touch, iPhone, and iPad, although some apps are specifically for the iPhone or iPad only. Some Apps cost money (called "Paid Apps") and some are free (called "Free Apps"). Developers can decide which prices they want to charge for apps, from a pre-set list of pricing tiers, from free to several hundred dollars. When someone downloads an App, 70 percent of the purchase goes to the developer(s), and 30 percent goes to Apple.
At the Macworld 2008 keynote, Steve Jobs, who was Apple's CEO at the time, announced iTunes movie rentals. Movies are available for rent in the iTunes Store on the same day they are released on DVD, though the iTunes Store also offers for rental some movies that are still in theaters. Movie rentals are only viewable for 24 hours (in the US) or 48 hours (in other countries) after users begin viewing them. The iTunes Store also offers one low-priced movie rental a week: in the United States, this rental costs 99 cents. Movie rentals are not yet available in all countries but it is available in the United States, Mexico, the United Kingdom, Canada, Australia and New Zealand.
There is a weekly promotion in which one to three songs are available to download for free to logged-in users. Free downloads are available on Tuesdays, and remain free until the following Tuesday, when the store gets refreshed with new content. Some artists choose to have select songs available for no charge. This is not available at all iTunes Stores. Some iTunes television programs have begun the same technique to encourage brand loyalty; although those stay longer. In fact, the iTunes Store has a "Free TV Episodes" page where free episodes are organized by length, either as "featurettes" (shorter than 15 minutes) or full length episodes (longer than 15 minutes). Free content can vary from a preview of a show to bonus content to pilot episodes and entire seasons of TV shows (examples of free seasons include HBO's The Weight of the Nation and ABC's Pan-Am). Some networks, such as ABC and NBC, have their own pages of "Free Season Premieres".
While previously the US iTunes Store has offered as many as three free songs each week (the single of the week, Discovery Download, and Canción de la Semana) in recent years, the store has instead replaced the three aforementioned categories with a unified "Single of the Week" banner, with the week's single being from a new up and coming artist. In 2015, Apple discontinued the "Single of the Week" program.
iTunes Store for iOS
The iTunes Store allows users to purchase and download items directly to portable Apple devices, such as the iPhone, iPad, Apple TV and iPod Touch. Apple offers three apps, each of which provides access to certain types of content.
The App Store app sells apps for iOS, and also provides updates to these apps.
The iTunes Store app sells music and videos.
The iBooks app sells ebooks.
Other, free content available from the iTunes Store can be accessed from two other iOS apps:
The Podcasts apps lets users download, subscribe to and sync podcasts.
The iTunes U app gives access to iTunes U educational material.
Originally, mobile users had to be connected to a Wi-Fi network in order to enter the store, hence its original name: the iTunes Wi-Fi Music Store. However, at Macworld 2009, Apple issued a software update which automatically allowed 3G and EDGE users to access the store's full functionality for files smaller than 10 megabytes (MB). The iOS 3.0 update added the ability to download movies, TV shows, audiobooks, iTunes U, and ringtones on mobile devices, in addition to the previously available songs and podcasts. On February 18, 2010, Apple increased the 10 MB 3G download limit to 20 MB. In March 2012, Apple increased the 3G download limit to 50 MB, and, in late 2013, Apple increased the limit to 100 MB when they released the final version of iOS 7 for their new iPhones.
Reception and commercial success
Since its launch, the iTunes Store has crossed many milestones. In the first 18 hours, the store sold about 275,000 tracks, and more than 1 million tracks were sold in its first 5 days. When released for Windows in October 2003, iTunes was downloaded more than 1 million times in the first 3 days, selling more than 1 million songs in that period. On December 15, 2003, Apple announced that it had sold 25 million songs.
In January 2004 at the Macworld Conference & Expo in San Francisco, Steve Jobs announced (Sellers, 2004) that an unnamed person had purchased US$29,500 worth of music. On March 15, 2004, Apple announced that iTunes Music Store customers had purchased and downloaded 50 million songs from the iTunes Music Store. A song sold on iTunes gives the artist 9 cents in profit. They also reported that customers were purchasing 2.5 million songs a week which translates to a projected annual run rate of 130 million songs a year. The 50 millionth song was "The Path of Thorns" by Sarah McLachlan.
On April 28, 2004, the iTunes Music Store marked its first anniversary with 70 million songs sold, clear dominance in the paid online music market and a slight profit. The store also offers hundreds of movie trailers and music videos, in an attempt to boost soundtrack sales. In the conference, Steve Jobs reiterated that a subscription service is still not in the interest of customers and reported that only 5 million of the 100 million songs offered in the Pepsi giveaway campaign were redeemed, which he blamed on technical problems in Pepsi distribution. According to an Apple press release dated August 10, 2004, the iTunes Music Store was the first store to have a catalog of more than one million songs. Also, the iTunes Music Store at that point maintained a 70 percent market share of legal music downloads.
The emerging monopoly of the store has been criticized by Mike Lang of Miramax for "effectively strangling the industry". He says that because the music industry has allowed too few content providers, it is now suffering. Lang views the issue as being more of a threat than music piracy.