ICANN announced that it had distributed the last batch of its remainingIPv4 addresses to the world's five Regional Internet Registries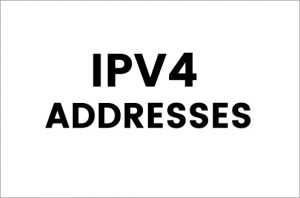 Date: 02/03/2011
On February 3, 2011, ICANN announced that it had distributed the last batch of its remaining IPv4 addresses to the world's five Regional Internet Registries, the organizations that manage IP addresses in different regions. These Registries began assigning the final IPv4 addresses within their regions until they ran out completely, which could come as soon as early 2012.
As the last blocks of IPv4 addresses are assigned, adoption of a new protocol—IPv6—is essential to the continued growth of the open Internet. IPv6 will expand Internet address space to 128 bits, making room for approximately 340 trillion trillion trillion addresses (enough to last us for the foreseeable future).
Google, along with others, has been working for years to implement the larger IPv6 format. We're also participating in the planned World IPv6 Day, scheduled for June 8, 2011. On this day, all of the participating organizations will enable access to as many services as possible via IPv6.
Today's ICANN announcement marks a major milestone in the history of the Internet. IPv6, the next chapter, is now under way.
The activation of this procedure was triggered when Latin America and Caribbean Network Information Centre's (LACNIC) supply of addresses dropped to below 8 million.
This move signals that the global supply of IPv4 addresses is reaching a critical level. As more and more devices come online, the demand for IP addresses rises, and IPv4 is incapable of supplying enough addresses to facilitate this expansion. ICANN encourages network operators around the globe to adopt IPv6, which allows for the rapid growth of the Internet.
"We are grateful for the guidance we've received from the RIRs as the number of unallocated IPv4 addresses dwindles," said Elise Gerich, Vice President of IANA and Technical Operations at ICANN. "This redistribution of the small pool of IPv4 addresses held by us ensures that every region receives an equal number of addresses while we continue to work with the community to raise support for IPv6."
To handle this critical drop in the numbers available to LACNIC, the five RIRs' policy making communities established a policy for the equal redistribution by ICANN. This is known as the allocation phase outlined in the Global Policy for Post Exhaustion IPv4 Allocation Mechanisms.
"The IANA IPv4 Recovered Address Space registry contained about 20 million IPv4 addresses earlier today and is now about half that size," said Leo Vegoda, Operational Excellence Manager at ICANN. "Redistributing increasingly small blocks of IPv4 address space is not a sustainable way to grow the Internet. IPv6 deployment is a requirement for any network that needs to survive."
IPv6 facilitates the exponential growth of the Internet by providing 340-undecillion unique addresses, compared to the 3.7 billion afforded by IPv4.
"To continue to fuel the economic growth and opportunity that is brought by the Internet, we are at the point where rapid adoption of IPv6 is a necessity to maintain that growth," said Gerich.