Internet2/Abilene Network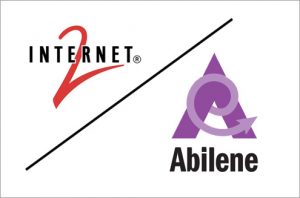 Date: 01/01/1999
Internet 2
Internet2 is a not-for-profit United States computer networking consortium led by members from the research and education communities, industry, and government. The Internet2 consortium administrative headquarters are located in Ann Arbor, Michigan, with offices in Washington, D.C. and Emeryville, California.
As of November 2013, Internet2 has over 500 members including 251 institutions of higher education, 9 partners and 76 members from industry, over 100 research and education networks or connector organizations, and 67 affiliate members.
Internet2 operates the Internet2 Network, an Internet Protocol network using optical fiber that delivers network services for research and education, and provides a secure network testing and research environment. In late 2007, Internet2 began operating its newest dynamic circuit network, the Internet2 DCN, an advanced technology that allows user-based allocation of data circuits over the fiber-optic network.
The Internet2 Network, through its regional network and connector members, connects over 60,000 U.S. educational, research, government and "community anchor" institutions, from primary and secondary schools to community colleges and universities, public libraries and museums to health care organizations.
The Internet2 community develops and deploys network technologies for the future of the Internet. These technologies include large-scale network performance measurement and management tools, secure identity and access management tools and capabilities such as scheduling high-bandwidth, high-performance circuits.
Internet2 members serve on several advisory councils, collaborate in a variety of working groups and special interest groups, gather at spring and fall member meetings, and are encouraged to participate in the strategic planning process.
History
As the Internet gained in public recognition and popularity, universities were among the first institutions to outgrow the Internet's bandwidth limitations because of the data transfer requirements faced by academic researchers who needed to collaborate with their colleagues. Some universities wanted to support high-performance applications like data mining, medical imaging and particle physics. This resulted in the creation of the very-high-performance Backbone Network Service, or vBNS, developed in 1995 by the National Science Foundation (NSF) and MCI for supercomputers at educational institutions. After the expiration of the NSF agreement, vBNS largely transitioned to providing service to the government. As a result, the research and education community founded Internet2 to serve its networking needs.
The Internet2 Project was originally established by 34 university researchers in 1996 under the auspices of EDUCOM (later EDUCAUSE), and was formally organized as the not-for-profit University Corporation for Advanced Internet Development (UCAID) in 1997. It later changed its name to Internet2. Internet2 is a registered trademark.
The Internet2 community, in partnership with Qwest, built the first Internet2 Network, called Abilene, in 1998 and was a prime investor in the National LambdaRail (NLR) project. During 2004–2006, Internet2 and NLR held extensive discussions regarding a possible merger. Those talks paused in spring, 2006, resumed in March, 2007, but eventually ceased in the fall of 2007, due to unresolved differences.
In 2006, Internet2 announced a partnership with Level 3 Communications to launch a brand new nationwide network, boosting its capacity from 10 Gbit/s to 100 Gbit/s. In October, 2007, Internet2 officially retired Abilene and now refers to its new, higher capacity network as the Internet2 Network.
Internet2 provides the U.S. research and education community with a network that satisfies their bandwidth-intensive requirements. The network itself is a dynamic, robust and cost-effective hybrid optical and packet network. It furnishes a 100 Gbit/s network backbone to more than 210 U.S. educational institutions, 70 corporations and 45 non-profit and government agencies.
The uses of the network span from collaborative applications, distributed research experiments, grid-based data analysis to social networking. Some of these applications are in varying levels of commercialization, such as IPv6, open-source middleware for secure network access, Layer 2 VPNs and dynamic circuit networks.
Abilene Network
Abilene Network was a high-performance backbone network created by the Internet2 community in the late 1990s. In 2007 the Abilene Network was retired and the upgraded network became known as the "Internet2 Network".
History
One of the aims of the Abilene project was to achieve 10 Gbit/s connectivity between every node by the end of 2006. Over 230 member institutions participated in Abilene, mostly universities and some corporate and affiliate institutions, in all of the US states as well as the District of Columbia and Puerto Rico. It connected to European research networks NORDUnet and SURFnet. The legal entity behind the network was the University Corporation for Advanced Internet Development.
When it was established in 1999, the network backbone had a capacity of 2.5 Gbit/s. An upgrade to 10 Gbit/s began in 2003 and was completed on February 4, 2004.
The name Abilene was chosen because of the project's resemblance, in ambition and scope, to the railhead in Abilene, Kansas, which in the 1860s represented the frontier of the United States for the nation's railroad infrastructure.
Abilene and Internet2 and the Internet2 Network
The media often incorrectly used the term "Internet2 Network" when referring to the "Abilene Network". Some sources even suggest that Internet2 is a network wholly separate from the Internet. This is misleading, since, at the time of the Abilene Network, Internet2 was the consortium and not a computer network. It is possible that many news sources adopted the term Internet2 because it seems like a logical name for a next-generation Internet backbone. Articles that reference Internet2 as a network were in fact referring to the Abilene Network. Internet2 adopted the name Internet2 Network for its entire network infrastructure.
Abilene formed a high-speed backbone by deploying cutting edge technologies not yet generally available on the scale of a national network backbone. Abilene was a private network used for education and research, but was not entirely isolated, since its members usually provide alternative access to many of their resources through the public Internet.
Operations Center (NOC)
Abilene's Network Operations Center (NOC) was hosted at Indiana University since its inception. "The cross-country backbone is 10 gigabits per second, with the goal of offering 100 megabits per second of connectivity between every Abilene connected desktop."
2006/2007 Upgrade
The Abilene project had used optical fiber networks donated by Qwest Communications. In March 2006, Internet2 announced its upgrade plans and migration to Level 3 Communications. Internet2's Abilene transport agreement with Qwest expired in October 2007. Unlike the previous architecture, Level 3 manages and operated an Infinera Networks based DWDM system devoted to Internet2. Internet2 has control over provisioning and uses the 40 wavelength capacity to provide IP backbone connectivity as well as transport for a new SONET-based dynamic provisioning network based on the Ciena Corporation CoreDirector platform. The IP network was based on the Juniper Networks T640 routing platform.