ICANN approved .asia, .cat, .jobs, .mobi, .tel and .travel as TLD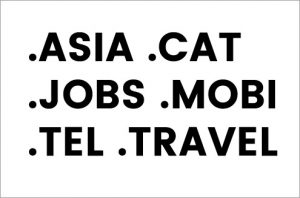 Date: 12/15/2003
ICANN added further TLDs,starting with a set of sponsored top-level domains. The application period for these was from December 15, 2003 until March 16, 2004, and resulted in ten applications. Of these, ICANN has approved asia, cat, jobs, mobi, tel and travel, all of which are now in operation
2004 February VeriSign filed a lawsuit against ICANN on February 27, 2004, claiming that ICANN had oversteppedits authority. In this lawsuit, VeriSign sought to reduce ambiguity about ICANN's authority. The antitrust component of VeriSign's claim was dismissed in August 2004.VeriSign's broader challenge that ICANN overstepped its contractual rights is currently outstanding. A proposed settlement already approved by ICANN's board would resolve VeriSign's challenge to ICANN in exchange for the right to increase pricing on .com domains. At the meeting of ICANN in Rome which took place from March 2 to March 6, 2004, ICANN agreed to ask approval of the US Department of Commerce for the Waiting List Service of VeriSign.
2004 May 17th On May 17, 2004, ICANN published a proposed budget for the year 2004-05. It included proposals to increase the openness and professionalism of its operations, and greatly increased its proposed spending from US $8.27 million to $15.83 million. The increase was to be funded by the introduction of new top-level domains, charges to domain registries, and a fee for some domain name registrations, renewals and transfers (initially USD 0.20 for all domains within a country-code top-leveldomain, and USD 0.25 for all others). The Council of European National Top Level Domain Registries (CENTR), which represents the Internet registries of 39 countries, rejected the increase, accusing ICANN of a lack of financial prudence and criticizing what it describes as ICANN's "unrealistic political and operational targets". Despite the criticism, the registry agreement for the top-level domains jobs and travel includes a US $2 fee on every domain the licensed companies sell or renew.
2004 June pro became a gTLD in May 2002, but did not become fully operational until June 2004
2004 July CreditCards.com for $2.75 million in July 2004
2005 After a second round of negotiations in 2004, the TLDs eu, asia, travel, jobs, mobi, and cat were introduced in 2005.
2005 tp (the previous ISO 3166-1 code for East Timor): Being phased out in favor of tl since 2005.
2005 The org domain registry allows the registration of selected internationalized domain names (IDNs) as second-level domains. For German, Danish, Hungarian, Icelandic, Korean, Latvian, Lithuanian, Polish, and Swedish IDNs this has been possible since 2005. Spanish IDN registrations have been possible since 2007.
2005 June 30th Verisign, the operator of net after acquiring Network Solutions, held an operations contract that expired on June 30, 2005. ICANN, the organization responsible for domain management, sought proposals from organizations to operate the domain upon expiration of the contract. Verisign regained the contract bid, and secured its control over the net registry for another six years. On June 30, 2011, the contract with Verisign was automatically renewed for another six years due do an clause in the contract with ICANN which states renewal will be automatic unless Verisign commits something egregious.
2005 November In the early 2000s, there had been speculation that the United Nations might signal a takeover of ICANN, followed by a negative reaction from the US government and worries about a division of the Internet the World Summit on the Information Society in Tunisia in November
2005 agreed not to get involved in the day-to-day and technical operations of ICANN.However it also agreed to set up an international Internet Governance Forum, with a consultative role on the future governance of the Internet. ICANN's Government Advisory Committee is currently set up to provide advice to ICANN regarding public policy issues and has participation by many of the world's governments.
2005 December 7th eu (European Union): On September 25, 2000, ICANN decided to allow the use of any two-lettercode inthe ISO 3166-1 reserve list that is reserved for all purposes. Only EU currently meets this criterion. Following a decision by the EU's Council of Telecommunications Ministers in March 2002, progress was slow, but a registry (namedEURid) was chosen by the European Commission, and criteria for allocation set: ICANN approved eu as a ccTLD, and it opened for registration on 7 December 2005 for the holders of prior rights. Since 7 April 2006, registration is open to all.
2006 Database size, which had been a significant marketing feature through the early 2000s, was similarly displaced by emphasis on relevancy ranking, the methods by which search engines attempt to sort the best results first. Relevancy ranking first became a major issue circa 1996, when it became apparent that it was impractical to review full lists of results.Consequently, algorithms for relevancy ranking have continuously improved.Google's PageRank method for ordering the results has received the most press,but all major search engines continually refine their ranking methodologies with a view toward improving the ordering of results. As of 2006, search engine rankings are more important than ever, so much so that an industry has developed ("search engine optimizers", or "SEO") to help web-developers improve their search ranking, and an entire body of case law has developed around matters that affect search engine rankings, such as use of trademarks in metatags. The sale ofsearch rankings by some search engines has also created controversy among librarians and consumer advocates.
2006 28th February On February 28, 2006, ICANN's board approved a settlement with VeriSign in the lawsuit resulting from SiteFinder that involved allowing VeriSign (the registry) to raise its registration fees by up to 7% a year. This was criticised by some people in theUS House of Representatives' Small Business committee.
2006 March 1996 ac (Ascension Island): This code is avestige of IANA's decision in1996 to allow the use of codes reserved in the ISO3166-1 alpha-2 reserve list for use by the Universal Postal Union. The decision was later reversed, with Ascension Island now the sole outlier. (Three otherccTLDs, gg (Guernsey), im (Isle of Man) and je (Jersey) also fell under this category from 1996 until they received corresponding ISO 3166 codes in March2006.)
2006 July On July 26, 2006, the United States government renewed the contract with ICANN for performance of the IANA function for an additional one to five years. The context of ICANN's relationship with the U.S.government was clarified on September 29, 2006 when ICANN signed a new Memorandum of Understanding with the United States Department of Commerce(DOC).