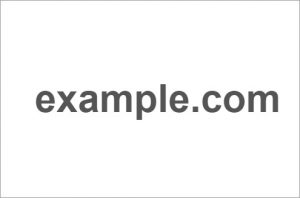 Date: 01/01/2000
Example.com, example.net, example.org, and example.edu are second-level domain names reserved for documentation purposes and examples of the use of domain names.
The second-level domain label example for the top-level domains com, net, and org, was reserved in 1999 by the Internet Engineering Task Force in RFC 2606, Section 3, while it was reserved for the edu domain by the Internet Corporation for Assigned Names and Numbers (ICANN) since 2000.
By implementing the reservation, the Internet Assigned Numbers Authority (IANA) made available domains to use in technical and software documentation, manuals and sample software configurations. Thus, documentation writers can be sure to select a domain name without creating naming conflicts if end-users try to use the sample configurations or examples verbatim.
When an address such as username@example.com is used to demonstrate the sign-up process on a website, it directs the user to enter an actual email address at which they receive mail. Example.com is used in a generic and vendor-neutral manner.
These domain names resolve to Internet Protocol (IP) addresses for IPv4 and IPv6 of a web server managed by ICANN and are digitally signed using DNSSEC.
The example domains have one subdomain name defined in the Domain Name System. For each domain, the third-level domain name www resolves to the same IPv4 and IPv6 addresses as the parent domains.