The Internet (early computers)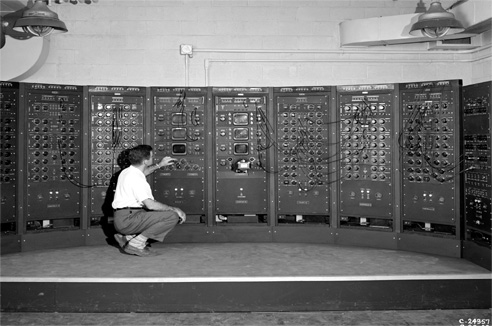 Initial concepts of packet networking originated in several computer science laboratories in the United States, United Kingdom, and France. The US Department of Defense awarded contracts as early as the 1960s for packet network systems, including the development of the ARPANET. The first message was sent over the ARPANET from computer science Professor Leonard Kleinrock's laboratory at University of California, Los Angeles (UCLA) to the second network node at Stanford Research Institute (SRI).
Packet switching networks such as ARPANET, NPL network, CYCLADES, Merit Network, Tymnet, and Telenet, were developed in the late 1960s and early 1970s using a variety of communications protocols. Donald Davies first designed a packet-switched network at the National Physics Laboratory in the UK, which became a testbed for UK research for almost two decades. The ARPANET project led to the development of protocols for internetworking, in which multiple separate networks could be joined into a network of networks.
Access to the ARPANET was expanded in 1981 when the National Science Foundation (NSF) funded the Computer Science Network (CSNET). In 1982, the Internet protocol suite (TCP/IP) was introduced as the standard networking protocol on the ARPANET. In the early 1980s the NSF funded the establishment for national supercomputing centers at several universities, and provided interconnectivity in 1986 with the NSFNET project, which also created network access to the supercomputer sites in the United States from research and education organizations. Commercial Internet service providers (ISPs) began to emerge in the very late 1980s. The ARPANET was decommissioned in 1990. Limited private connections to parts of the Internet by officially commercial entities emerged in several American cities by late 1989 and 1990, and the NSFNET was decommissioned in 1995, removing the last restrictions on the use of the Internet to carry commercial traffic.
In the 1980s, research at CERN in Switzerland by British computer scientist Tim Berners-Lee resulted in the World Wide Web, linking hypertext documents into an information system, accessible from any node on the network. Since the mid-1990s, the Internet has had a revolutionary impact on culture, commerce, and technology, including the rise of near-instant communication by electronic mail, instant messaging, voice over Internet Protocol (VoIP) telephone calls, two-way interactive video calls, and the World Wide Web with its discussion forums, blogs, social networking, and online shopping sites. The research and education community continues to develop and use advanced networks such as NSF's very high speed Backbone Network Service (vBNS), Internet2, and National LambdaRail. Increasing amounts of data are transmitted at higher and higher speeds over fiber optic networks operating at 1-Gbit/s, 10-Gbit/s, or more. The Internet's takeover of the global communication landscape was almost instant in historical terms: it only communicated 1% of the information flowing through two-way telecommunications networks in the year 1993, already 51% by 2000, and more than 97% of the telecommunicated information by 2007. Today the Internet continues to grow, driven by ever greater amounts of online information, commerce, entertainment, and social networking.
The concept of data communication – transmitting data between two different places through an electromagnetic medium such as radio or an electric wire – predates the introduction of the first computers. Such communication systems were typically limited to point to point communication between two end devices. Telegraph systems and telex machines can be considered early precursors of this kind of communication. The Telegraph in the late 19th century was the first fully digital communication system.
Fundamental theoretical work in data transmission and information theory was developed by Claude Shannon, Harry Nyquist, and Ralph Hartley in the early 20th century.
Early computers had a central processing unit and remote terminals. As the technology evolved, new systems were devised to allow communication over longer distances (for terminals) or with higher speed (for interconnection of local devices) that were necessary for the mainframe computer model. These technologies made it possible to exchange data (such as files) between remote computers. However, the point-to-point communication model was limited, as it did not allow for direct communication between any two arbitrary systems; a physical link was necessary. The technology was also considered unsafe for strategic and military use because there were no alternative paths for the communication in case of an enemy attack.
Development of packet switching
The issue of connecting separate physical networks to form one logical network was the first of many problems. In the 1960s, Paul Baran of the RAND Corporation produced a study of survivable networks for the U.S. military in the event of nuclear war. Information transmitted across Baran's network would be divided into what he called "message-blocks". Independently, Donald Davies (National Physical Laboratory, UK), proposed and was the first to put into practice a similar network based on what he called packet-switching, the term that would ultimately be adopted. Leonard Kleinrock (MIT) developed a mathematical theory behind this technology (without the packets). Packet-switching provides better bandwidth utilization and response times than the traditional circuit-switching technology used for telephony, particularly on resource-limited interconnection links.
Packet switching is a rapid store and forward networking design that divides messages up into arbitrary packets, with routing decisions made per-packet. Early networks used message switched systems that required rigid routing structures prone to single point of failure. This led Tommy Krash and Paul Baran's U.S. military-funded research to focus on using message-blocks to include network redundancy.
Networks that led to the Internet
ARPANET
Promoted to the head of the information processing office at Defense Advanced Research Projects Agency (DARPA), Robert Taylor intended to realize Licklider's ideas of an interconnected networking system. Bringing in Larry Roberts from MIT, he initiated a project to build such a network. The first ARPANET link was established between the University of California, Los Angeles (UCLA) and the Stanford Research Institute at 22:30 hours on October 29, 1969.
By December 5, 1969, a 4-node network was connected by adding the University of Utah and the University of California, Santa Barbara. Building on ideas developed in ALOHAnet, the ARPANET grew rapidly. By 1981, the number of hosts had grown to 213, with a new host being added approximately every twenty days.
ARPANET development was centered around the Request for Comments (RFC) process, still used today for proposing and distributing Internet Protocols and Systems. RFC 1, entitled "Host Software", was written by Steve Crocker from the University of California, Los Angeles, and published on April 7, 1969. These early years were documented in the 1972 film Computer Networks: The Heralds of Resource Sharing.
ARPANET became the technical core of what would become the Internet, and a primary tool in developing the technologies used. The early ARPANET used the Network Control Program (NCP, sometimes Network Control Protocol) rather than TCP/IP. On January 1, 1983, known as flag day, NCP on the ARPANET was replaced by the more flexible and powerful family of TCP/IP protocols, marking the start of the modern Internet.
International collaborations on ARPANET were sparse. For various political reasons, European developers were concerned with developing the X.25 networks. Notable exceptions were the Norwegian Seismic Array (NORSAR) in 1972, followed in 1973 by Sweden with satellite links to the Tanum Earth Station and Peter Kirstein's research group in the UK, initially at the Institute of Computer Science, London University and later at University College London.
NPL
In 1965, Donald Davies of the National Physical Laboratory (United Kingdom) proposed a national data network based on packet-switching. The proposal was not taken up nationally, but by 1970 he had designed and built the Mark I packet-switched network to meet the needs of the multidisciplinary laboratory and prove the technology under operational conditions. By 1976 12 computers and 75 terminal devices were attached and more were added until the network was replaced in 1986. NPL, followed by ARPANET, were the first two networks in the world to use packet switching.
Merit Network
The Merit Network was formed in 1966 as the Michigan Educational Research Information Triad to explore computer networking between three of Michigan's public universities as a means to help the state's educational and economic development. With initial support from the State of Michigan and the National Science Foundation (NSF), the packet-switched network was first demonstrated in December 1971 when an interactive host to host connection was made between the IBM mainframe computer systems at the University of Michigan in Ann Arbor and Wayne State University in Detroit. In October 1972 connections to the CDC mainframe at Michigan State University in East Lansing completed the triad. Over the next several years in addition to host to host interactive connections the network was enhanced to support terminal to host connections, host to host batch connections (remote job submission, remote printing, batch file transfer), interactive file transfer, gateways to the Tymnet and Telenet public data networks, X.25 host attachments, gateways to X.25 data networks, Ethernet attached hosts, and eventually TCP/IP and additional public universities in Michigan join the network. All of this set the stage for Merit's role in the NSFNET project starting in the mid-1980s.
CYCLADES
The CYCLADES packet switching network was a French research network designed and directed by Louis Pouzin. First demonstrated in 1973, it was developed to explore alternatives to the initial ARPANET design and to support network research generally. It was the first network to make the hosts responsible for the reliable delivery of data, rather than the network itself, using unreliable datagrams and associated end-to-end protocol mechanisms.
X.25 and public data networks
Based on ARPA's research, packet switching network standards were developed by the International Telecommunication Union (ITU) in the form of X.25 and related standards. While using packet switching, X.25 is built on the concept of virtual circuits emulating traditional telephone connections. In 1974, X.25 formed the basis for the SERCnet network between British academic and research sites, which later became JANET. The initial ITU Standard on X.25 was approved in March 1976.
The British Post Office, Western Union International and Tymnet collaborated to create the first international packet switched network, referred to as the International Packet Switched Service (IPSS), in 1978. This network grew from Europe and the US to cover Canada, Hong Kong, and Australia by 1981. By the 1990s it provided a worldwide networking infrastructure.
Unlike ARPANET, X.25 was commonly available for business use. Telenet offered its Telemail electronic mail service, which was also targeted to enterprise use rather than the general email system of the ARPANET.
The first public dial-in networks used asynchronous TTY terminal protocols to reach a concentrator operated in the public network. Some networks, such as CompuServe, used X.25 to multiplex the terminal sessions into their packet-switched backbones, while others, such as Tymnet, used proprietary protocols. In 1979, CompuServe became the first service to offer electronic mail capabilities and technical support to personal computer users. The company broke new ground again in 1980 as the first to offer real-time chat with its CB Simulator. Other major dial-in networks were America Online (AOL) and Prodigy that also provided communications, content, and entertainment features. Many bulletin board system (BBS) networks also provided on-line access, such as FidoNet which was popular amongst hobbyist computer users, many of them hackers and amateur radio operators.
UUCP and Usenet
In 1979, two students at Duke University, Tom Truscott and Jim Ellis, originated the idea of using Bourne shell scripts to transfer news and messages on a serial line UUCP connection with nearby University of North Carolina at Chapel Hill. Following public release of the software in 1980, the mesh of UUCP hosts forwarding on the Usenet news rapidly expanded. UUCPnet, as it would later be named, also created gateways and links between FidoNet and dial-up BBS hosts. UUCP networks spread quickly due to the lower costs involved, ability to use existing leased lines, X.25 links or even ARPANET connections, and the lack of strict use policies compared to later networks like CSNET and Bitnet. All connects were local. By 1981 the number of UUCP hosts had grown to 550, nearly doubling to 940 in 1984. – Sublink Network, operating since 1987 and officially founded in Italy in 1989, based its interconnectivity upon UUCP to redistribute mail and news groups messages throughout its Italian nodes (about 100 at the time) owned both by private individuals and small companies. Sublink Network represented possibly one of the first examples of the Internet technology becoming progress through popular diffusion.