3com Corporation – 3Com.com was registered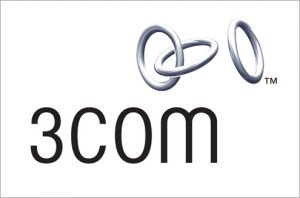 Date: 12/11/1986
On December 11, 1986, 3com Corporation registered the 3com.com domain name, making it 49th .com domain ever to be registered.
3Com Corporation was a digital electronics manufacturer best known for its computer network infrastructure products. The company was co-founded in 1979 by Robert Metcalfe, Howard Charney, Bruce Borden, and Greg Shaw and recruited Bill Krause from Hewlett-Packard to be its president in February 1981 when it raised its first round of venture capital. Metcalfe has explained that he came up with the name 3Com as a contraction of "Computer Communication Compatibility", with its focus on deploying the Ethernet technology that he had co-invented, which enabled the networking of computers. 3Com provided network interface controllers and switches, routers, wireless access points and controllers, IP voice systems, and intrusion prevention systems. The company was based in Santa Clara, Calif., USA. From its 2007 acquisition of 100 percent ownership of H3C Technologies Co., Limited (H3C) —initially a joint venture with China-based Huawei Technologies—3Com achieved a leading market presence in China, and a significant networking market share in Europe, Asia, and the Americas. 3Com products were sold under the brands 3Com, H3C, and TippingPoint.
Company History:
3Com Corporation is the world's number two provider of computer networking products, systems, and services, trailing only Cisco Systems, Inc. A pioneering networking company, particularly in the area of Ethernet network adapters, 3Com offers products and services for local area networks (LANs), wide area networks (WANs), and the Internet. The company also is aggressively targeting emerging areas for future growth, including home networks, wireless products, broadband cable, digital subscriber line (DSL) services, and Internet telephony. Some of its key product areas include switches, network hubs (central switching devices for network communication lines), internetworking routers (devices that automatically select the most effective routes for data being transmitted between networks), remote access systems, network management software, network interface cards, and modems. 3Com also owns about 95 percent of Palm, Inc., the number one maker of handheld computer devices, which 3Com planned to completely spin off to shareholders in late 2000.
Ethernet Origins
3Com Corporation was founded in 1979 by Robert M. Metcalfe as a consulting firm for computer network technology. The name 3Com was derived from its focus on computers, communication, and compatibility. Bob Metcalfe, an M.I.T.-educated engineer, originally established the firm as a consultancy because the market for computer network products had not yet emerged. Six years earlier at Xerox's Palo Alto Research Center, Metcalfe had led a team that invented Ethernet, one of the first local area network (LAN) systems for linking computers and peripherals (printers, scanners, modems, etc.) within a building. In 1979, after attending an M.I.T. alumni seminar on starting one's own business, the 32-year-old Metcalfe quit Xerox to start his own consulting firm. Later that year, he incorporated 3Com, with the participation of college friend Howard Charney, an engineer turned patent attorney, and two others as cofounders.
In 1980, the group of four decided the time was ripe to convert their company into a LAN equipment manufacturing business using the Ethernet technology. It was at this time, following Metcalfe's encouragement, that Xerox had decided to share its Ethernet patent with minicomputer manufacturer Digital Equipment Corporation and microprocessor manufacturer Intel Corporation to establish Ethernet as a LAN industry standard. As a manufacturer, 3Com was still a little ahead of its time; although there were very few enterprises that had multiple computers, most having only one mainframe or at most a couple of minicomputers, Metcalfe foresaw that personal computers would someday become commonplace.
The group began approaching California venture capital firms in October 1980 for financing to begin developing products. 3Com's business plan emphasized a strategy of letting market demand determine its rate of growth, taking the risk that the market might run away, and focusing on long-term growth, rather than short-term market share. Despite the initial slow growth predictions, three venture capitalists contributed a total of $1.1 million in the first round of financing, in large part on the strength of its founders' reputations.
In March 1981, Metcalfe recruited L. William Krause, who then was general manager of Hewlett-Packard's General Systems Division, to become 3Com's president. Metcalfe retained the positions of chief executive officer and chairperson and assumed the additional title of vice-president of engineering. Bill Krause also was given a nine percent share in the company, second in size only to Metcalfe's 21 percent. 3Com then had only nine employees, but Krause had visions of a much larger company. Also that month, 3Com began shipping its first hardware product, its first Ethernet transceiver and adapter. Krause soon hired a vice-president of sales and a vice-president of marketing, and, a few months later, he hired someone else to assume Metcalfe's position of vice-president of engineering. Krause had a conservative, risk-averse management style. When sales of 3Com's interim product were not as high as expected in the summer of 1981 and a cash flow problem loomed, Krause initiated a survival plan that involved a hiring freeze, a pay cut for all employees and officers, and a specific list of objectives. Even so, 3Com was not in serious difficulty. Sales for the year ending May 31, 1982 were $1.8 million. A second round of financing totaling $2.1 million came in January 1982. At the June 1982 board meeting, the board compelled Metcalfe to relinquish his title of CEO to Krause, who had really been in charge since he came to 3Com. Metcalfe then took on a new, more active role in the position of vice-president of sales and marketing.
3Com's sales took off in the summer months of 1982, not long after IBM introduced its 16-bit personal computer. The young company became profitable in 1983, and, in March 1984, 3Com went public, raising $10 million. By then it was expanding by approximately 300 percent annually, having grown from $4.7 million to $16.7 million in sales for the fiscal year ending May 1984. Earnings that year were $2.3 million, and the company had a 15 percent operating profit. Two years later, for the fiscal year ending May 31, 1986, revenues reached $64 million.
The company was doing well selling adapter cards to value-added resellers and to original equipment manufacturers, which were large computer manufacturing companies. The market was rapidly maturing, however, as computer manufacturers, including IBM and Digital Equipment, were beginning to integrate their own networking functions into their computers. In 1986, 3Com held eight percent of the LAN market, while computer manufacturer IBM had captured 28 percent of the market by including LAN hardware and software within its computers.
Mid-to-Late 1980s: Providing More Complete Computer Network Systems
In response to the trend, 3Com decided to move in the direction of providing more complete computer network systems. In 1984, Metcalfe had started a new software division to develop advanced network software, and the company shipped its first network operating system software, 3+, two years later. Also during this time, 3Com began marketing its own computer called the 3Server to function as a network server, a computer on a network whose data is accessed by multiple desktop computers in a configuration known as client-server. By the spring of 1986, servers accounted for 32 percent of 3Com's sales. To complete the system, 3Com also wanted to offer computers that functioned as clients. Therefore, in early 1986, it pursued a merger with Convergent Technologies Inc., which manufactured UNIX-based workstations. Two days before the scheduled shareholder approval in March 1986, however, 3Com's investment banker advised against being acquired by Convergent. On its own, 3Com then began selling systems that included modified personal computers, referred to as network stations, which operated only within its networks.
In 1987, 3Com began marketing itself more as a workgroups computing company that made and marketed PC-network systems. As such, it emphasized products that improved the productivity of workgroups. Several product introductions were made that year, including new network servers, software, and industry-standard network adapter cards. With this market strategy, however, 3Com was running into competition with Novell, Inc., which offered similar products. One important difference, however, was that 3Com targeted niche markets of more sophisticated users.
In September 1987, 3Com made a significant acquisition by purchasing Bridge Communications Inc. for $151 million. Bridge was a provider of internetwork gateways and multiple-protocol bridges, devices that link different networks together on a corporate level. Thus Bridge's products complemented 3Com's, and the largest independent networking manufacturer at that time was formed. Integration of the two companies, however, was not without difficulties. Bridge was completely merged into 3Com by March 1988, but it was not until the end of 1989 that its new internetworking products were introduced. Bridge cofounder William Carrico was appointed president of 3Com, with Krause remaining as CEO, but differences in management styles and corporate cultures prompted Carrico to resign in May 1988, and Krause regained the presidency. At the same time, Bridge Communications Division General Manager Judy Estrin, another cofounder of Bridge, also resigned. The integration of the sales forces also caused problems, since 3Com had focused on value-added resellers, whereas Bridge was more involved in direct sales. Therefore, a Cooperative Selling Program was launched whereby sales representatives earned commissions on sales to value-added resellers just as they did for direct sales. The buildup of a direct sales force, however, angered some of 3Com's traditional dealers, and sales of LAN Manager suffered.
Also in 1987, 3Com had entered into a joint effort with Microsoft Corporation to develop and market LAN Manager network software for the OS-2 operating system. 3Com sold LAN Manager under a license agreement with Microsoft and, beginning in 1988, it also marketed 3+Open, its own version of LAN Manager. LAN Manager, however, was a direct competitor of Novell's product, NetWare, and OS-2 eventually proved less popular an operating system than expected.
3Com's sales for the year ending May 31, 1988 were $252 million, up from $156 million in the previous year, and earnings had risen from $16.2 million to $22.5 million. By 1988, 3Com was the leading company specializing in computer networks. As a provider of networks, it was second only to Digital Equipment and was ahead of IBM. Then, in the summer of 1989, revenue growth began to slow seriously for the first time, in part due to the poor sales of LAN Manager. 3Com had its first annual drop in earnings for the year ending May 1990. The company also was losing in its battle against rival Novell's NetWare, which by 1990 had 65 percent of the network operating system market share. In 1989, 3Com shipped 14,000 copies of its 3+ and 3+Open software, whereas Novell shipped 181,000 copies of NetWare. Meanwhile, internetworking products, the specialty of the acquired Bridge Communications, were being neglected.
Early 1990s: Focusing on the Networks Themselves
Krause responded by implementing a 'New Renaissance Plan' beginning in January 1990 to reorganize and refocus the company. 3Com began marketing itself as a 'network integrator' and a 'network systems supplier,' as a single source for network hardware and applications software compatible with multiple vendors' systems. Client/server networking was de-emphasized, and the focus shifted to comprehensive networking and internetwork connections. 3Com thus gave up going head to head against Novell, and 3Com's hardware henceforth supported both LAN Manager and its former competitor, NetWare. The marketing of LAN Manager, meanwhile, was left to Microsoft.
Krause also centralized the company by reducing the number of divisions from five to three: product development, internal operations, and sales. New executive vice-presidents were named to head each division, replacing the authority of Metcalfe's vice-presidency. Krause then removed himself from daily operations and began looking for someone else to replace him as CEO.
In April 1990, 3Com appointed Eric Benhamou, who had been the new executive vice-president of product development, as president and chief operating officer. Benhamou had been one of the cofounders of the acquired Bridge Communications company. A month later, founder Metcalfe resigned from his posts as vice-president of marketing and board member, after being passed over for the position of president. In August 1990, Krause himself resigned as CEO of 3Com, and Benhamou assumed that post as well. Krause remained only as chairman of the board, leaving management satisfied with his accomplishments in building 3Com into a significant company of 2,000 employees.
Benhamou continued the process of refocusing the company along the lines of Krause's Renaissance plan. 3Com began investing more in technically innovative products such as network adapters, software, network management, and internetworking. Increasing emphasis was put on the cohesiveness of its products. To that end, in November 1990 two new divisions were created to replace four previous product-oriented groups. A Network Adapter Division was created to sell the company's Ethernet cards, replacing the former Transmission Systems Division, and a Network Systems Division, headed directly by Benhamou, assumed the responsibilities of the former Enterprise Systems Division, Distributed Systems Division, and the Management, Messaging and Connectivity Division. Some mid-level managers were removed in the process.
In January 1991, 3Com further redefined its business objectives. The company completely gave up the network operating system software business, which had been providing the software packages LAN Manager, 3+, and 3+Open, since the LAN Manager royalty contract with Microsoft had become a financial burden. Under the contract, 3Com had to pay Microsoft royalties even if the computer servers it sold did not include LAN Manager but 3Com's 3+Open instead. Moreover, when LAN Manager was sold independently, not bundled with 3Com hardware, 3Com still had to pay the expense of customer support for LAN Manager and thus was losing money. 3Com's exit from the network operating system business freed the company from its royalty contract with Microsoft, and all marketing and support of LAN Manager was turned over to Microsoft. 3Com's LAN operating system, which had been losing market share to Novell's NetWare for the past three years, held only 14 percent of the market when the company dropped out. The restructuring also involved steering away from providing client and server computers in order to focus on the networks themselves. Benhamou's redirection and reorganization of the company also involved putting two businesses up for sale. Communications Solutions Inc., a manufacturer of connectivity products beyond LANs that had been acquired in 1988, was sold to Attachmate Corporation. The workgroup business, that which sold servers and workstations, however, could not find a buyer and was gradually eliminated. Whereas workgroup-related hardware and software had contributed $113 million, almost one quarter of 3Com's revenues, in 1990, this figure had dropped to 11 percent in 1991. The reorganization also involved laying off 234 employees, or 12 percent of the workforce, and a $67 million restructuring charge.
Thereafter, the company refocused on its successful LAN adapter line and internetworking products, such as bridges, hubs, adapters, and routers. 3Com had begun to depend increasingly on sales from its internetworking business, that of the acquired Bridge Communications company, after neglecting it for three years. 3Com had seen its market share in bridges and routers fall from 29 percent in 1988 to 19 percent in 1990, although it was still the third ranking company in the field, following Cisco Systems, Inc. and Vitalink Communications Corporation Network adapters, meanwhile, came to account for 72 percent of sales in the second half of 1991. 3Com further concentrated on improving its core adapter product line with the development of adapters for wireless notebook computers and adapters for higher speed network systems.
The initial results of the restructuring included lower revenues due to fewer product lines. For calendar year 1991, sales declined 15 percent to $370 million, and the company suffered a loss of $33 million, compared with a $24 million profit the previous year. Lower profits also were caused in part by the more competitive nature of the LAN adapter market that had emerged in the early 1990s. By the end of 1991, 14 percent of the company's workforce had been laid off, leaving a total of 1,676 employees. By 1992, however, the company was back on track, with sales rebounding to $423.8 million for the fiscal year ending May 31, 1992 and earnings becoming positive at $7.96 million.
For its other LAN components, 3Com came to rely increasingly on licensing or acquiring third-party technology. The company bolstered its hub business by acquiring the Data Networks business of U.K.-based BICC PLC, one of Europe's largest hub manufacturers, in January 1992. This gave 3Com the LinkBuilder ECS, an Ethernet chassis hub. In September 1992, 3Com introduced LinkBuilder 3GH, a high-end switching hub licensed from Synernetics Inc., a manufacturer of LAN switches. In a move to expand beyond Ethernet LAN structures, in 1993 3Com acquired Star-Tek Inc., which produced hubs for the Token-Ring network architecture. 3Com introduced a multifunction hub, LinkBuilder MSH, which could support both Ethernet and Token-Ring LANs in the spring of 1993. In December of that year, 3Com purchased wireless communications technology from Pacific Monolothics Inc. Early in 1994, 3Com acquired Synernetics, a manufacturer of LAN switches, and Centrum Communications Inc., which provided products for remote network access. In September 1994, 3Com purchased ATM innovator NiceCom Ltd., a subsidiary of Nice Systems based in Tel Aviv, Israel. 3Com rounded out its acquisitions spree in late 1995 with the $775 million purchase of Chipcom Corporation, a maker of multifunction high-speed switches for large computer networks. This acquisition not only gave 3Com its first presence in the large corporate systems segment, it also propelled 3Com into second place among the world's networking companies, behind only Cisco Systems. 3Com's product strategy and acquisitions under Benhamou helped the company reach $2.33 billion in sales for the fiscal year ending in May 1996, nearly six times that of four years prior. Reflecting its rising stature, while at the same time representing an attempt to make the company better known to the general public, 3Com paid $3.9 million to the city of San Francisco to change the name of Candlestick Park, where the Giants played major league baseball, to 3Com Park, a move that angered many baseball fans.
Late 1990s: U.S. Robotics and Palm
Despite its diversification efforts, 3Com remained primarily a maker of network adapters in the mid-1990s, a period in which the emergence of the Internet heightened demand for networking products of all sorts. While market leader Cisco Systems concentrated mainly on the devices that formed the backbone of the Internet, 3Com focused on the Internet edge with its products that connected personal computers to networks–both LANs and WANs and to the Internet, and those that welded together local area networks. 3Com's key acquisition in its emerging Internet strategy was that of U.S. Robotics Corporation, which was completed in June 1997. Dallas-based U.S. Robotics was the leading maker of low-cost modems, which were used to connect personal computers to the Internet and to other remote networks. The company also had a leading presence on the other end of the modem, that is in the remote access devices that were the entry points into Internet service providers and corporate networks for users dialing in through a modem. U.S. Robotics was particularly strong in the area of corporate remote access devices. In 1995 the company also had acquired Palm Computing, a pioneer in the field of handheld computing devices.
Following the acquisition of U.S. Robotics, 3Com derived more than half of its revenues from the low end of the networking segment, that which included network adapters and modems. Overall revenues reached $5.42 billion for the 1998 fiscal year but the company was barely profitable thanks to merger-related and other charges totaling $253.7 million. Integrating U.S. Robotics into 3Com proved more difficult than anticipated, in part because of the geographic and cultural divide between Silicon Valley and Texas oil country. An inventory backlog also developed for U.S. Robotics modems for a time while an industry standard was being adopted for another increase in analog modem speed, this time to 56 kilobits per second. In fact, with faster alternative access technologies–such as cable modems and digital subscriber lines (DSL)–being developed, many analysts were predicting the demise of the analog modem and questioned the wisdom of the U.S. Robotics acquisition. Although the analog modem proved longer lasting than anticipated, and new access technologies were slow to be adopted, 3Com was forced to contend with a number of shareholder lawsuits stemming from the U.S. Robotics purchase and the company's plummeting market value.
For the 1999 fiscal year, 3Com posted net income of $403.9 million on sales of $5.77 billion, representing a vast improvement in profitability but only a slight revenue gain. The company was suffering from intense competition and sagging prices, particularly in its core network adapters and modems segment, where revenues were actually on the decline. The brightest spot was Palm Computers, which had captured 70 percent of the handheld computer market. But by late 1999 3Com management had concluded that Palm had become a distraction away from the company's networking core. 3Com, therefore, announced that it would spin off Palm during 2000. In early March of that year 3Com sold about five percent of the common stock of the newly named Palm, Inc. in an initial public offering that raised $874 million–an IPO conducted in the midst of a technology stock frenzy on Wall Street. 3Com next planned to distribute the remaining Palm stake to 3Com shareholders later in 2000.
As the 21st century began, speculation continued that 3Com would itself become an acquisition target or would be broken up through further spinoffs. But Benhamou was insisting that the company would remain independent and had the right mix of networking products. 3Com was counting on being a key player in such emerging areas as home networks, wireless products, broadband cable, DSL services, and Internet telephony. To facilitate this, the company was forging alliances, such as a partnership with Microsoft to develop home networking products. In addition, 3Com continued to make strategic acquisitions, such as the March 1999 $87.8 million purchase of NBX Corporation, a company specializing in Internet telephony systems that integrated voice and data communications over small business LANs and WANs.